With apologies for the underwhelming headline, but can you ever really call an airport 'great' and keep your credibility intact? Porto is blessed with one of the better airports in Europe and so it should be, having cost €400 million to build (€100 million over budget and 4 years late!). When choosing a European destination for a corporate event or similar, having a half decent airport will at least set you off on the right foot and among the many things that Porto has to celebrate as an event destination, the airport can at least make a minor contribution.
It now serves 13 million passengers, but thankfully when it was built in 2007, the planning authorities were wildly optimistic that the new airport would grow passenger traffic from a couple of million to 15 million, to much derision from seasoned travel professionals. Well they were right! Which means that Porto has a correctly sized airport for its current usage, which is one of the first good things about Porto airport – even when it is busy, it is pretty much never packed to the rafters (which is unfortunately not the case in Lisbon airport, which is catastrophically undersized). The other great thing about spending such an absurd sum of money on a building, is that for €400 million you get a light and airy space and decent facilities, which makes Porto airport a slightly less soul-destroying place to wait for your plane/luggage than others.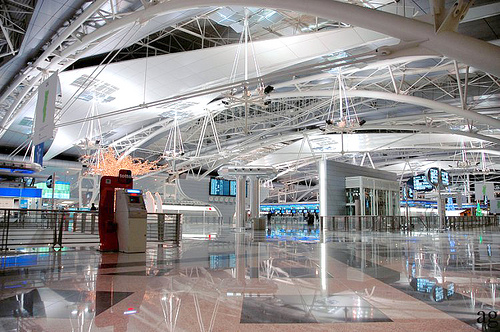 The next thing that we would like to celebrate about our airport, is the fact that it serves 84 destinations at the last count, serving as a hub for both easyJet and Ryanair and you can find multiple flights a day to the more popular destinations like London, Geneva, Paris etc. So it means that most people in Europe (and a few further afield for example New York and Rio de Janeiro) can find a direct flight to Porto that will be convenient for the timing of an event. For 2023, Ryanair has just announced that it will be adding 11 more destinations flying to Porto – Bristol, Leeds, Castellon, Maastricht, Nimes, Strasbourg, Shannon, Stockholm, Trapani, Turin and Wroclaw – so with a few further additions from other airlines, it should be up to 100 destinations flying into Porto shortly.
The final joyous thing about Porto airport is that it is just 11 kms from the centre of Porto. That means that on a good day you can be in your hotel in 15 minutes from leaving the airport! An Uber starts at around €20 to the city centre, taxis are around €25 and then there is a metro (30 minutes, for €2.60) as well as a few bus services. For many of the events we organise we also handle the airport pick-ups and it certainly makes things a lot easier for us and for clients having the airport on the doorstep.
But you don't have to take our word for it! No lesser an authority than the Airport Council International awarded the Best European airport (10 to 25 million passengers) to Porto airport in 2022. They say it is often the little things that make an event a success and here at Porto Events, we are all about making sure that every detail for you event is planned to perfection – even the airport!