Here at Porto Events we keep a close eye on hotel prices in Porto, so that we can make the best recommendations to our clients. Here we are going to share some of our data on how 4 and 5 star city centre hotel prices evolve throughout the year to help give some guidance about when might be the best time to hold an event in Porto.
Our data is not completely scientific (it is based on a handful of city centre Porto hotels that we track) – the prices are based on single rooms with breakfast included and are based on booking 3 months in advance. Of course there are all sorts of negotiations that are possible to have with hotels based on group numbers and so on, but these figures are really meant to demonstrate the length of the peak season, rather than the actual price you will pay.
Perhaps the most important information that the data communicates is how extended the Summer peak season is. Prices really start to tick up in April and only begin to come down in October, whereas for example in the Algarve in sourthern Portugal, the high season is shorter with a sharper peak in prices.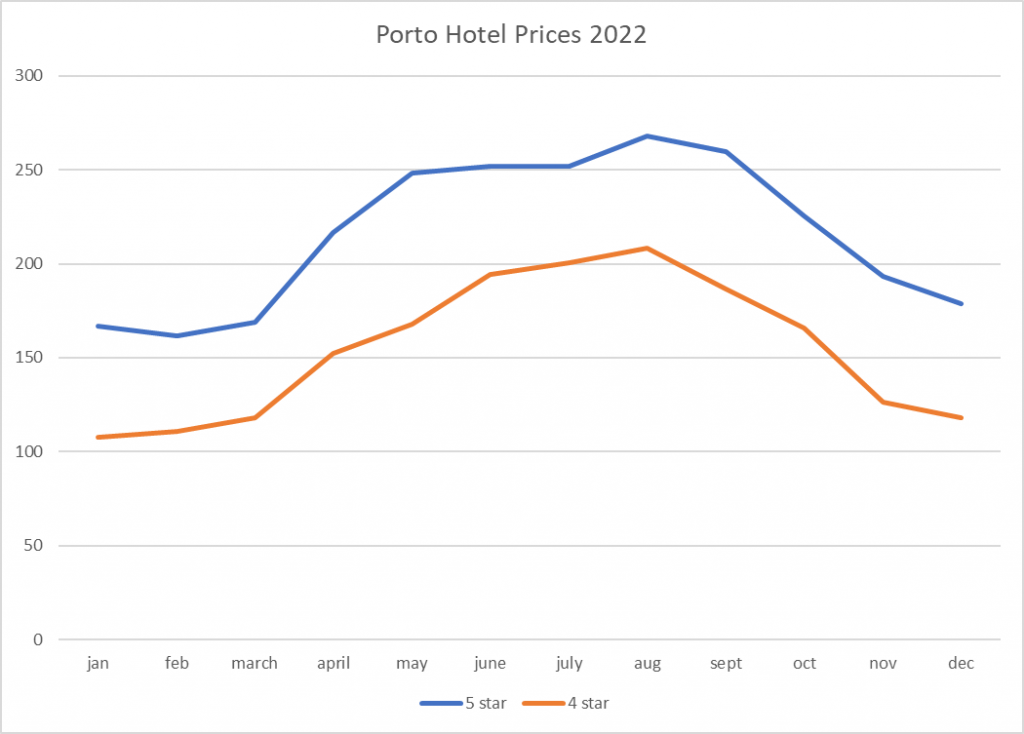 If you contemplating organising an event in Porto, perhaps the real message is that to get more preferential rates you should either look at November to March where prices are around €170 for 5 star and €120 for 4 star or look at October and April, when you can get 4 star rooms for under €150 and 5 star for under €200; meanwhile in the peak season prices will be more like €200 and €250 respectively.
Porto is blessed with an attractive climate pretty much all year round, with mild Winters and bearably hot Summers, so there really is no reason not to book outside of peak season – in fact with fewer tourists in off-peak season, the city has a more relaxed feel to it and it is of course easier to get bookings in restaurants and for touristic activities as well as hotels. Furthermore for peak season, it is generally difficult to get a group booking on a popular city centre hotel even if you book several months in advance. In fact generally we advise giving us 12 months notice if you are thinking about holding an event in central Porto in the Summer.
Finally it is worth noting that Porto continues to be very busy adding new hotels to the centre, in particular re-purposing existing historic buildings as hotels. This is really helping to keep up with the ever growing demand for Porto as a destination for both events and general tourism. It means that there is ever more variety in the hotels that the city has to offer, which makes our work as a DMC in Porto a lot easier in terms of finding a hotel that is well suited to our clients requirements. If you are thinking about holding an event in Porto, please contact us and we will find the perfect hotel for you as well as organising every aspect of your event!