If you are bringing a corporate event to Porto (or indeed a private party) there will almost certainly be a celebratory dinner involved and there is no DMC in Porto who knows the dining venues of Porto better than our team at PortoEvents. Our approach to running a gala dinner is to focus obsessively on the details, because so often an event can be ruined by small things going wrong.
But first of all it is all about the venue and in Porto you are spoilt for choice for dining options from 2 to 600 people! Portugal is well known for the unusual and delicious dishes that are served up – with plenty for the less adventurous diner and some real show-stoppers for the more daring. Being such a maritime nation, seafood is at the heart of much of what Portuguese cuisine does best, but there really is a fabulous selection of traditional meat and vegetarian options that are truly unique to Portugal. Furthermore, Portuguese wine is beginning to get the international recognition it deserves (beyond that of Port wine, which has been famous for hundreds of years) – over the last 10 years or so several Portuguese wines have won 95 points or more on Robert Parker's Wine Advocate for example, which has really helped to focus attention on the very high end wines that are being produced now.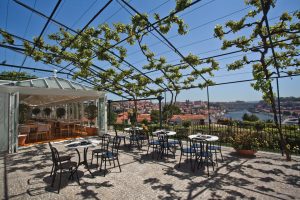 In Porto of course we are lucky enough to be situated at the mouth of the Douro river, where further upstream in the Douro valley, Port wine is produced as well as some of the best unfortified wines that Portugal produces. Many of the quintas that produce the wine also have fabulous settings for gala dinners, either in hotels connected to their wineries or in special events rooms or restaurants attached to their cellars in central Porto. We can organise truly unforgetable and unique gala dinners for you at some of these locations, typically in private rooms.
We also organise transfers to events and of course accommodation as well as live music, audio-visual as well as unique touches such as surprise performances from hidden artists or drinks and canapés on a boat trip. If you are looking for a gala dinner in Porto, please challenge us to come up with an original and compelling event!