Porto is lucky enough to be located on the mouth of one of the world's most beautiful rivers, the Douro, which stretches East from Porto all the way to the Spanish border and beyond. The Douro river used to be used to ship Port wine down the river from the Port wine vineyards which start about 100kms up river from Porto. Nowadays the wine is transported by road and the river is mostly just for pleasure!
The river is stunningly beautiful as it carves its way through the terraced vineyards, and there is an amazing stillness to it as the river has been dammed in various locations. There are a number of ways that you can enjoy a cruise on the Douro as part of a corporate event in Porto or as multi-day excursion. For shorter events, we can organise a short trip (of a couple of hours for example), where we serve a sunset cocktail, with a live band playing on a boat for 50 people or so. It can provide a great kick-off to an evening before a gala dinner in Porto or Vila Nova de Gaia for example.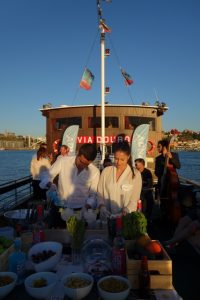 We can also provide longer excursions with cruises starting from 8 people up to a few hundred which can cruise all the way up the Douro valley, with options to either sleep on board or stay at one of the many Port wine lodges that cling to the steep valley sides.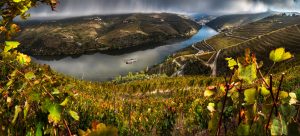 If you are interested in organising an event in Porto and want to include the Douro river in it, please contact us and we will put together an unforgetable package for you!