The Crowne Plaza in central Porto was renovated in 2017 and along with the Sheraton is the most business focused of Porto's growing number of 5 star hotels. The Crowne Plaza probably edges out the Sheraton as a corporate hotel because of the greater variety of events rooms it has available – a total of 11 rooms with a total of 929 m2 and a largest room of 370m2 with a maximum capacity of 600 (you can see the floor-plans here). There are also a total of 232 guest rooms (which start at around the €100 mark), so it is a viable option for medium size conferences and other corporate events.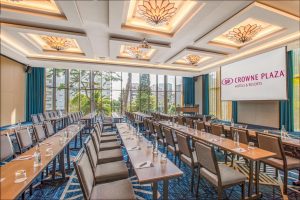 The hotel is not really walking distance from downtown Porto (around 3kms away) , so you will generally need some kind of transport to go out at night or to visit the city, but its peripheral location does give it very good access to the airport (less than 15 minutes outside of the rush hour) and the motorway network. The restaurant and bar are attractively done and both spill out into the garden area and prices are reasonable given that the hotel is 5 star (you can eat for less than €20 and for example a gin and tonic starts at €7).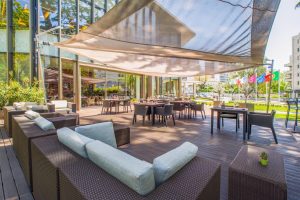 You could argue that staying at the Crowne Plaza (or for that matter the Sheraton), you miss out from staying in a more historic location, but for larger corporate events held in Porto this is really the price you have to pay. In truth given the fact that Porto is a relatively small city, you are never to far away from the cultural centre or tourist activities and it can be a relief to be located away from the tourist crowds in peak season.
If you are looking to hold a corporate event in Porto, let us be your guide and help you find the perfect location for you. We are a full service DMC and we can organise every element of your trip.