At the time of writing, there are 17 new hotels either with planning permission granted or pending in Porto (of which 15 are in the centre), with several set to be completed in 2019, representing a continuation of the extraordinary expansion in Porto's tourism sector over the last 10 years. In 2018, Porto's hotels have generally been reporting very high levels of occupancy, but it remains to be seen with all the extra hotels being built whether it will eventually lead to an oversupply, but there is no doubt that destination management companies in Porto are salivating at the rapidly increasing number of event venues that are coming available.
Of note in the new hotels to be built or renovated over the next couple of years are three from Portugal's biggest hotel group, Pestana: two of them are slap bang in the historical centre of Porto (one of 46 rooms and one of 87 rooms) and then a brand new €20 million hotel located more on the city fringe with 165 rooms.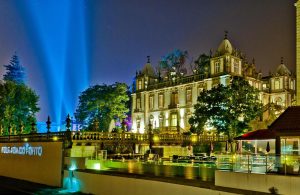 Then there is the Spanish hotel group, Axis, planning to spend €14 million on a hotel with at least 100 rooms, having purchased 5 buildings in the historic centre to be converted into a single hotel by 2020.
Of course, here at PortoEvents, we welcome new hotels coming to the city, especially some of the larger hotels which have on offer some exceptional and original spaces to organise events in Porto. If you are interested in running a corporate event, product launch, conference or similar in Porto, please contact us and we will help you to find the perfect venue!