In the 21 years that PortoEvents has known Porto, the changes have been incredible – ultimately it was Ryanair who can probably take credit for kick-starting the Porto tourism revolution, as they were the first to bring low-cost flights which were what made Porto a viable tourist destination. The arrival of tourists from all over the world has impacted the city in all sorts of ways, but one of the most pleasurable has been a dramatic improvement in the quality and variety of restaurants available.
It is not just the fact there are now 4 restaurants with Michelin stars and several more knocking on the Michelin inspectors' door, it is also the fact that restaurants in Porto used to offer decent food, but they tended to be very similar. Now there is an explosion of options, running the gamut from tacky tourist traps to fine dining.
Recently there have opened several restaurants (both independent and in hotels) which have the size to run a mid-sized event and the quality of food and service that a premium event would require. This means that Porto can offer some really great options for gala dinners, business events and private parties.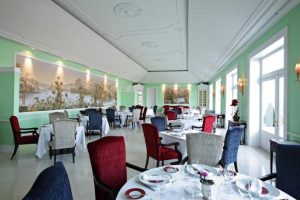 If you are looking for an event planner in Porto and need a DMC that really understands great food and venues, then please contact us at PortoEvents for more information.