Gerês national park is 75 minutes from Porto airport and is one of the most beautiful and unspoilt areas of Portugal. The park nestles up against Spain on Portugal's northern border and is a blend of steep valleys, with lakes and rivers cutting through them. There is an abundance of native trees and wildlife and there are endless trails to explore and outdoor activities to take part in. It really is the perfect location for an incentive trip or team-building activity.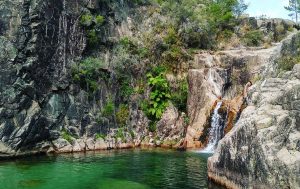 Most of the accommodation options are on the periphery of the park as there is very limited construction allowed within the protected area (with the notable exception of the spa town at its centre, which is itself called Gerês). There are a number of four star and 5 star hotels available as well as several options for more rustic accommodation for groups really looking to get into the outdoor life.
Activities available all centre on the great outdoors either on the lakes and rivers or in the mountains. So you will find horse riding, canyoning, orienteering, climbing, cycling, jeep rides treking and so on. Or you might just be looking for stunning scenery with peace and quiet.
To get to Gerês from Porto or Porto airport, you will have to travel by bus or car but it can work well as a day trip or for a more extended visit – if you are looking for further places to visit as well as Gerês national park, nearby you also have 3 historic cities – Ponte de Lima (famous for its Roman bridge), Braga (churches and architecture) and Guimarães (castles and history). This is also where the famous Vinho Verde comes from, which is a light white wine unique to northern Portugal and there are a number of vineyards that you can visit.
Along with the Douro valley, Gerês is the obvious destination to visit if you are starting from Porto and want to see Portugal at its most beautiful or to do some outdoor activities. If you would like to organize an incentive trip or team-building event in Gerês or anywhere else in northern Portugal, then please contact us at PortoEvents and we can supply the complete package, to include a wide range of activities and accommodation as well as all the logistics.