In 2015, one of the most stunning buildings in Portugal was opened, with the inauguration of the Porto Cruise Terminal. Whilst its main function is to receive the growing number of cruise ships visiting Porto (with a 350m long berth for cruise ships), the building itself has a total of 15,000sqm with a variety of locations that can be used for hosting events. As your DMC in Porto, we can organize every element you need to hold an event in this venue!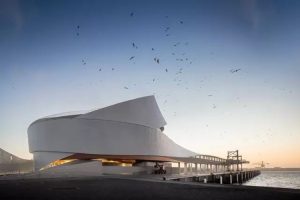 The building itself is a dramatic swirl of white, like the soft ice cream in an old fashioned ice cream cone and inside the ultra-modern theme is continued with more white flowing walls and endless wall to ceiling windows looking out over the ocean.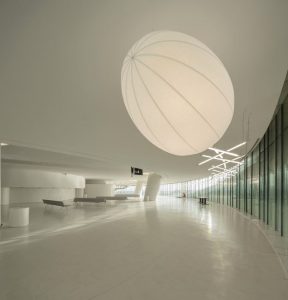 This dramatic building can be used to host a wide varity of events with a choice of several spaces:
-On the ground floor there is a main reception area, which can host a stand up event for 300
-On the first floor, the "Boarding Room" which has 1050sqm available and can be used for seminars, presentations, congresses etc, with up to 400 people in auditorium format.
-On the thrid floor, the most dramatic location to hold an event with its views over the ocean. It can hold 300 people in theatre, 350 in banquet and 400 in cocktail format and there is also a small auditorium which will take 70 people.
There are also outdoor locations that can also be used, either on balconies or at ground level, but all with ocean views.
If you are interested in holding an event in the Porto Cruise Terminal or would like to know of other events venues in Porto in which an event can be held, please contact us at PortoEvents.