We are often asked by clients what is the best time of year to hold an event in Porto and one of the key things to consider is hotel prices. We carried out an analysis of 4 and 5 star city centre hotels in Porto to understand better how hotel prices fluctuate during the year and you can see our results below.
Porto has become a major tourist attraction and it is the demand from tourists that really determine hotel prices – you can see from our analysis that the high season for tourism and hotel prices is actually rather a long one. So unlike resort holidays like in the Algarve where peak demand is heavily focused on July and August, in Porto there is a long "high season" which stretches from May all the way through to October.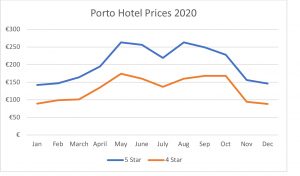 The average hotel room price for the 6 months high season of May October is €246 for 5 star rooms and €161 for 4 star rooms, which contrasts with a low season average (from November to April of €158 for 5 star and €101 for 4 star). So if you are looking to manage an event in Porto, then there is clearly a lot of money to be saved  if you can avoid the elongated tourist season. It is worth noting that these prices are based on published prices and typically we are able to provide better prices to our clients based on bulk discounts and special rates that we have negotiated with our partner hotels.
Whereas in some cities the heights of Summer can be just too hot and almost suffocating, Porto is generally fine to visit throughout the Summer, mainly due to the Atlantic influence, which generally keeps temperatures below 30ºc and provides a gentle breeze throught the day. So although it can get rather hot it is rarely unpleasantly so and indeed the Summer months can be a great time to hold an event in and around Porto, particularly in July when room rates drop off a little.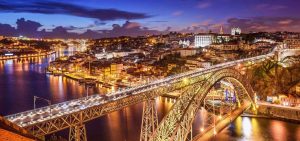 The city centre of Porto is quite compact and generally you will be able to get around on foot, so if you are looking to visit central Porto in your free time, having a central location for your hotel can be a major bonus, although of course there is a premium to be paid on less central locations. Our analysis in this case only included city centre hotels, but we do work with several hotels with less central locations where prices are invariably more accessible. Finally, you may wish to consider holding an event in northern Portugal, but outside of Porto itself – there are a number of attractive city locations to consider (Braga, Guimarães and Aveiro for example) as well as some stunning rural locations such as the Douro valley and Gêres national park.
It is our job as a DMC in Porto to match the right hotel to the right client in terms of price, facilities, location and ambience and we have worked for many years with the key hotels in Porto that have events facilities, so we are always able to give some great recommendation for the best place to stay for events in Porto – please contact us for more information.