Over the last 10 years ago there has been a revolution in Porto's restaurant sector with a flourishing of high end restaurants and international flavours. Prior to this it was generally rather difficult to find anything other than more traditional Portuguese food in Porto – whilst traditional Portuguese restaurant food is generally extremely enjoyable and good to eat, the international market and increasingly cosmopolitan Portuguese consumer are sometimes looking for something more contemporary. This explosion of new flavours coming to Porto has not gone unnoticed by the Michelin guide and in 2020, 5 of Porto's restaurants received Michelin stars.
Here at PortoEvents we are your perfect partner for organising a gala dinner or restaurant celebration meal, catering for small intimate groups to banquets for 500 people or more. If you are looking for something very high end or a more down-to-earth event, then we will find the perfect location for you. If you are looking for Michelin stars, then your options in and around Porto are: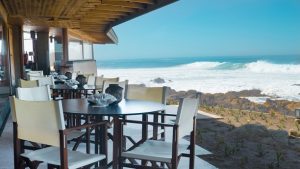 Casa de Chá da Boa Nova (Chef: Rui Paula) 2 Michelin stars
Located near Porto's fishing harbour of Matosinhos, many consider this to be the best fish restaurant in Porto (if not in all of Portugal!). There are fabulous views out to the ocean and a beautiful interior to match.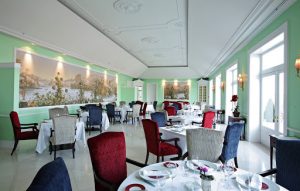 The Yeatman (Chef: Ricardo Costa) 2 Michelin stars
The Yeatman has become a landmark hotel, located on the south side of the river Douro with uninterrupted views of the city of Porto and currently undergoing a significant expansion. The menu is focused on giving a contemporary twist in classic Portuguese dishes and the wine cellar is unmatched in northern Portugal, with over 25,000 bottles in stock.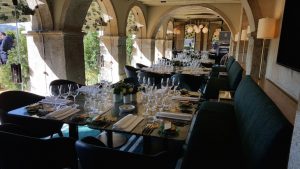 Antiqvvm (Chef: Vitor Matos) 1 Michelin star
Housed in a 19th century manor house that has been beautifully refurbished to preserve much of the historic details, the menu is influenced by Mediterranean flavours with truly original and unexpected flourishes.
Largo do Paço, Hotel Casa da Calçada (Chef: Tiago Bonito) 1 Michelin star
Located around 45 minutes inland from Portugal in the stunning city of Amarante, this is an amazing restaurant to enjoy regional specialities at. The setting is very tranquil and historic and the restaurant has become a site of pilgrimage for gourmands looking to explore the best of Portuguese classic dishes.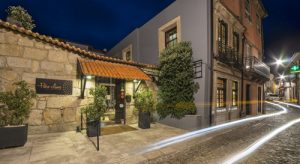 Pedro Lemos (Chef: Pedro Lemos) 1 Michelin star
Pedro Lemos has his eponymous restaurant located right at the mouth of the river Douro in Foz de Douro. He is known as one of Portugal's most creative and innovative chefs, giving some Portuguese classics a new lease of life, set in an intimate and welcoming dining environment
So if you are planning to visit Porto, you are pretty much guaranteed a good feed as long as you stay away from the tourist traps. Allow us to be your guide to plan you event in Porto: we can organise an unforgettable dining experience for you as your DMC in Porto as well as handle all the other details that need attending to, such as accommodation, transport and cultural activities.