A fantastic new hotel has opened in Gaia – The Lodge – using some old Port wine cellars to make a hotel with a very clever mixture of the very modern with elements of the ancient heritage of the buildings that have been converted. So for example old barrel staves form a guard of honour around a sleek golden staircase and an wooden handcart sits in the lobby lit by space-age lighting. It is great to see a new hotel in Porto make such an effort to create a distinctive identity as well as providing all the facilities you would expect for somewhere clearly focused on corporate events as a major source of revenue. It would be a shame for a city like Porto that has so much character and heritage to become dominated by identikit hotels that spring up like mushrooms all round the world when a city starts to gain popularity as a tourist or corporate event destination.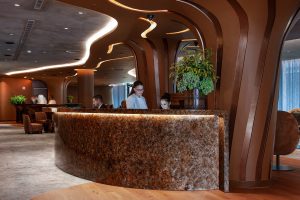 It is a 5 star hotel located near the river right in among the working Port lodges – as well as the 119 rooms, it includes a very funky bar which really forms the heart of the hotel, a restaurant that celebrates Portuguese food with dramatic views to the Porto side of the river, four event spaces and two meeting rooms.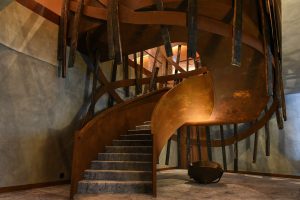 With the events sector thriving in Porto and something of a shortage of genuinely premium locations in central locations to hold them, it looks like The Lodge is on to a winning formula. The four events rooms have capacity for between 120 and 400 people and all provide modern functional spaces, with great lighting and all the AV facilities you would expect. Whilst these event spaces are attractive and functional, the two meetings rooms are on another scale. They both have bottles lining the walls and extraordinary sculptural pieces dominating the roof along the board room style tables – truly locations to hold a historic meeting or celebrate a corporate milestone. The smaller meeting room will hold 20 round the meeting table and the larger will take 30.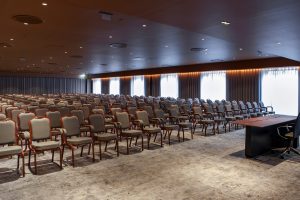 To give an idea of list pricing, single rooms start at around €140 going up to around double that for a suite. Given the location and the facilities, this is actually a very competitive price and it is sure to give some of the more established 5 star hotels in Porto and Gaia a run for their money particularly in the Gaia and Porto corporate events sector, where The Lodge is already a stand-out venue.