In 2018 Porto and the north of Portugal saw an increase of 5.0% in visitor numbers, making it the fastest growing tourist destination in Portugal. This growth is in part a result of saturation being reached in Lisbon with the over-spill finding its way up to Porto; it also reflects some dramatic improvement in tourism infrastructure in Porto, in particular rapid growth in the number of 4 and 5 star hotels being opened many with conference facilities.
The numbers reflect the fact that over 10% of economic activity in Porto and the North is now generated by tourism, with 4.3 million visitors spending €480 million. The good news for the tourism sector is that average income per hotel room available grew by 8.75% in 2018, although this in general reflects the fact that visitors are tending to go for more premium hotels rather than an inflation in room rates. If you are planning an event in Porto or are just going to visit, there is no need to panic though, as the average nightly rate is still just €46 (compared to €59 in Lisbon for example).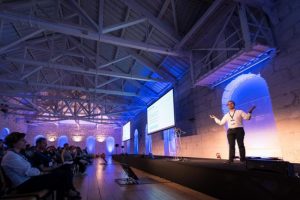 A key issue for Porto and surrounding areas will be to maintain this growth in visitor numbers over the coming years, because of the level of investment in new hotels will need it in order to keep them full (there are currently 17 new hotels planned to be built in and around Porto over the next 5 years). There is also the key problem of seasonality in visitors, as hotels typically struggle to fill their rooms outside of the April to October season. To combat this, a lot of hotels have been investing in conference facilities to try and promote events to appeal more to business travellers – for example, Portugal's largest hotel group, Pestana, will be spending €20 million on a 165 room hotel on the outskirts of Porto with a comprehensive range of conference facilities.
If you are thinking about surfing the wave of Porto's popularity and making use of some of the brand new hotels to organise a conference in Porto or other event, please contact us for more information.