Largely due to draconian lock-down restrictions and a compliant population, Portugal has had one of the lowest rates of Covid infection in Europe in Spring 2021 and at the time of writing (mid-May), there are a lot of tourists booking their trips to Portugal as one of the few low-risk European destinations. That has to be good news for event management companies in Porto like PortoEvents and we are doing what we can to reassure potential clients that they can book their events in Porto and northern Portugal with security.
The key thing that we are offering new clients is improved cancellation conditions, so that if things were to take a turn for the worse we would be able to offer a full refund or re-scheduling in most cases. Our approach is to give each booking a detailed cancellation policy, because we cannot offer blanket full refunds in all cases (for example on events cancelled the day before it was due to be held); what we can do is offer the maximum flexibility possible and our partner event suppliers are proving extremely cooperative in offering far better cancellation policies than would normally be available.
So the message is that you can book your event in Porto in comfort! At the moment there unheard of availability for all sorts of events venues in and around Porto and for certain kinds of events there are some incredibly attractive prices available. Furthermore, bars and restaurants are now open (with minimal restrictions), so you do not have to spend your time in Portugal locked in a hotel bubble and most European countries are no longer requiring tourists returning from Portugal to quarantine.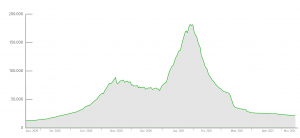 Above you can see the evolution of Covid cases in Portugal from August 2020 to May 2021
Whether it is an incentive trip, a gala dinner, an away day, conference, wedding in the Douro valley or whatever, please let us know what your requirements are and we will put together a package that reflects the restrictions that covid places on us, but also gives you the reassurance that refunds are available should things not go according to plan!