So you are heading to Porto for a conference or some other corporate event and whilst you are of course looking forward to the fascinating speeches and networking opportunities in the coffee breaks, what you really want to do is to catch some rays on a beautiful beach to forget about work for a while and pretend you are on holiday. Well here is where you need to go.
At the mouth of the river Douro, there are a few options in Foz and Matosinhos, but they are just not the best beaches in the world: Matosinhos beach is sandy, but overshadowed by a container port and some grim looking industrial structures and Foz is rather rocky and cramped. These are the two nearest options to Porto and in an emergency can work fine. If you have a bit more time, you need to travel a bit further and the easiest way to do it is to get a train from either São Bento station (slap bang in the middle of Porto) or Campanha station (on the outskirts near the Porto football stadium). From there you can visit some fantastic beaches such as Miramar which is the nearest beach on the train, but it is probably worth hanging on until Espinho (20 minutes on the train and then a two minute walk to the beach) – Espinho has big sandy beaches (see photo below), a protected bay for swimming if the waves are too big and plenty of restaurants and cafés near the beach to keep you fed and watered. Slightly further on is Esmoriz (although it is a 20 minute walk from the station to the beach (if you take the wooden walk way across the lagoon) where there is a massive beach and a more laid back feel than Espinho.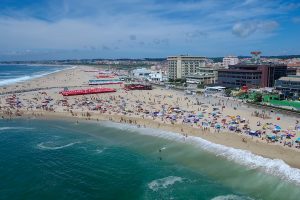 The train will cost you around €3 in each direction to Espinho or Esmoriz or if you get a tax it will be more like €30. If you really want to treat yourself then you will see the "bolo de berlim" sellers walking amongst the sunbathers (these are cream donuts and cannot be recommended highly enough) and there are loads of beach bars where you can sit with your feet in the sand and have a cold beer and generally congratulate whoever it was that organised a conference in Porto…..