We recently organised a gala dinner in Porto at one of the largest event venues available near central Porto, in one of the Port wine cellars (Real Companhia Velha). In the heart of the cellars there is a purpose-built event space, with glass walls that show off the barrels of Port wine that surround it – together with the original wooden beam structure of the roof and and elegant chequered floor this gives the space a unique atmosphere, not to be found anywhere else in Porto.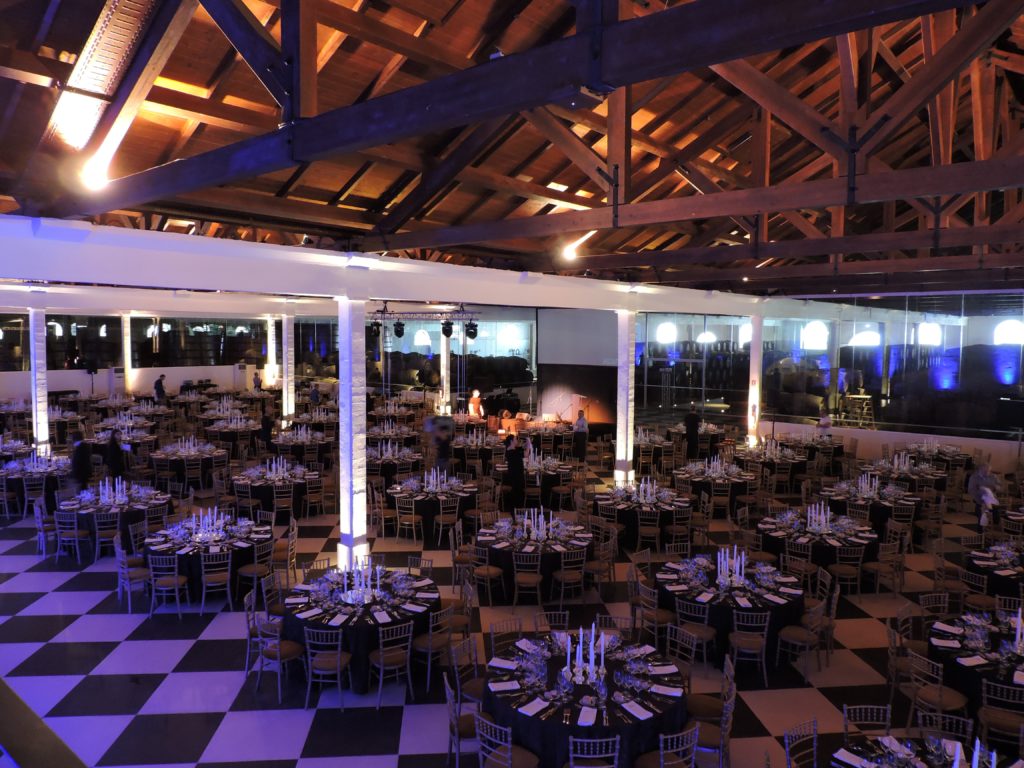 The main event space is 1200m2 and at full capacity can seat 1000 to dine, although the space can work well for a few hundred, with plenty of room for a stage, dance floor, buffet area or whatever is required for a particular event. There is also a 650m2 reception area adjacent to the main event space with a dramatic vaulted ceiling and modern amenities, which we typically use for a pre dinner cocktail or similar (it will take up to 550 standing).
The cellars are less than 10 minutes drive of central Porto and we like to stage a dramatic arrival for our guests, where they follow a path through the dimly lit vats and barrels of Port to emerge into the event space.
There are a lot of options for dressing the venue, but we like to make the most of the surroundings to highlight the heritage of the site, using lighting to highlight the features of the building and contrasting the brightness of the table settings with the relative gloom of the cellars themselves. There are also large white walls which can be lit up with company logos or similar and altogether it really makes for an incredibly striking feel to the venue.
Here is a short venue showcasing the venue and the set up we did for our most recent event. As always we are not showing the event itself out of respect for the privacy of our client and guests. If you are interested in holding an event in Porto, please get in touch!